The numbers say it all: For hotels using Selfbook, 45% of users have paid for their stay using Apple Pay on mobile, 55% of guests booking on desktop have used a mobile wallet, and the hotels themselves have experienced a 193% lift in mobile conversion rates from pre-pandemic levels.
45%

Paid with ApplePay on mobile

55%

Have used a mobile wallet

193%

Lift in mobile conversion rates
Tapping into modern consumers' e-commerce preferences and making them applicable to hotels has proven worthwhile in just a few months, and these mobile-first trends are only on the upswing. By empowering hotels with must-have features such as Apple Pay , one-step payments and direct Instagram bookings - to name just a few - Selfbook is ushering the hospitality industry into the future.
So how exactly can hotels take advantage of all that Selfbook has to offer? For hotel partners looking to bring their online booking and payment capabilities into the 21st century, our how-to guide breaks down each element of what Selfbook does so you can make the most of everything the software has to offer, such as Insta-friendly booking links and alternative payment methods galore.
How To Implement Selfbook
Hotels can seamlessly implement Selfbook technology into their existing Central Reservations System (CRS) without disrupting any existing systems. By working closely with Selfbook's Strategic Accounts team as well as its in-house developers, or with their own agency, hotels can have a Selfbook-powered booking module up and running in two to four days. This process allows hotels to smoothly integrate Selfbook into their booking platform all while configuring Apple Pay and other digital wallets, necessary customizations, and setting up Google tracking, Facebook tracking, and a staging site.
Selfbook's dedicated Strategic Account Managers ensure that the initial set-up period is as streamlined as possible for hotels, and remain available 24/7 for follow-up questions and support as hotels continue to manage bookings and payments independently.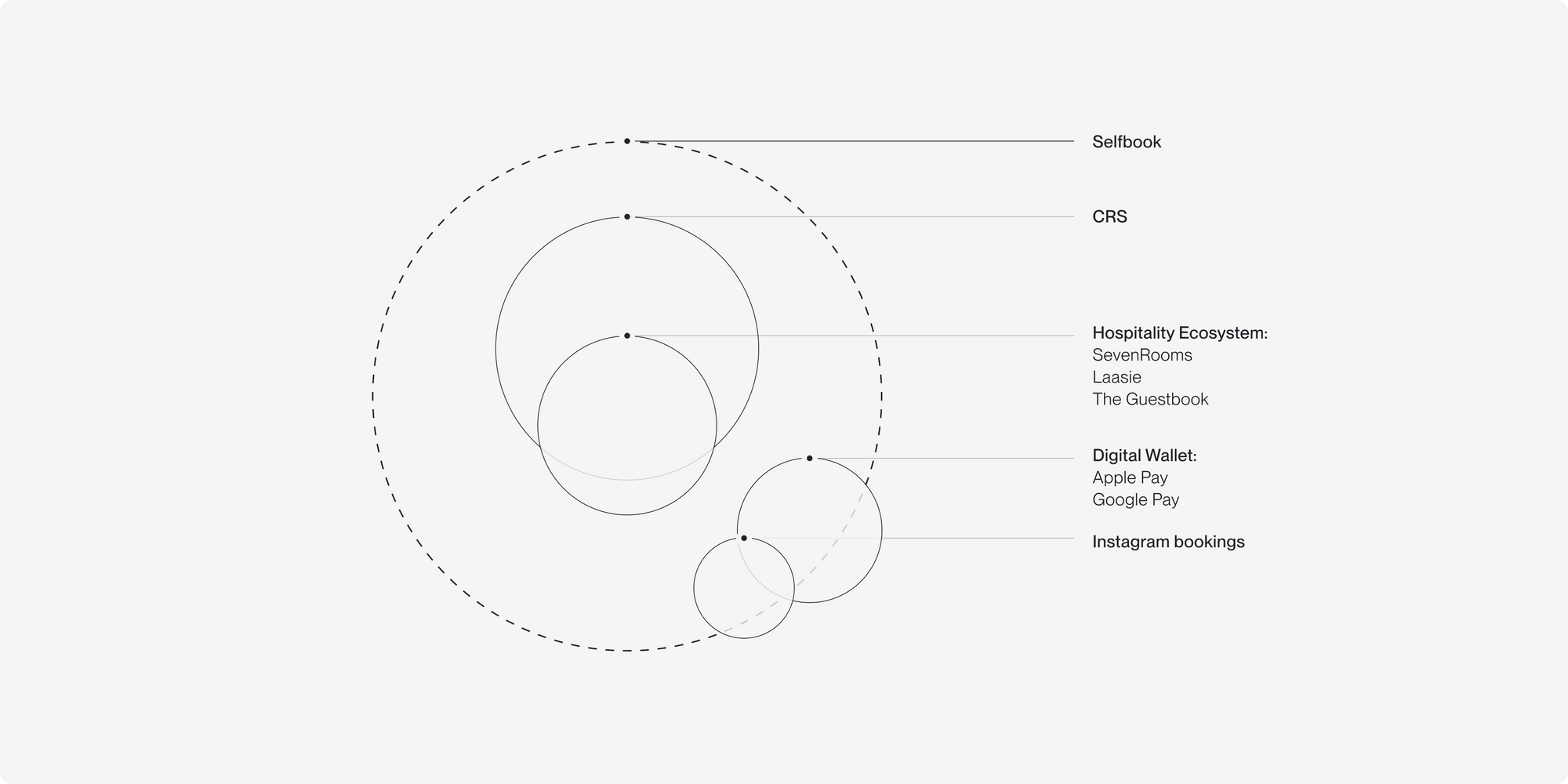 Integrations Across the Hospitality Ecosystem
By integrating directly with their existing SynXis CRS, Selfbook allows hotels to maintain their brand's look and feel while enhancing the booking experience. Selfbook also seamlessly integrates with other leading partners across the hospitality ecosystem, including SevenRooms, Laasie, and The Guestbook.
The all-in-one integration process enables hotels to unify all elements of the booking experience, including restaurant and spa reservations, within the guest's room reservation and boost average order value. Services and add-ons are tallied up in Selfbook's seamless checkout.
Seamless Direct Bookings
Selfbook's next-generation platform helps hotels remove friction from the booking process and boost conversions by eliminating disruptive redirects to external links and forms. This format creates an utterly seamless booking flow that exists within one simple, unified reservation module.
Guests can select their dates, rooms, preferred rate, upgrades and any add-ons or services, all of which are tallied up into a one-step payment. Thanks to Selfbook, bookings and payments that formerly existed in outdated, time-consuming silos, can now join the same playing field as consumer-friendly e-commerce leaders that enable one-step checkout.
Reduced cart abandonment and increased average order value make this streamlined booking platform the clear future direction for hotels that want to keep up with e-commerce trends and drive direct bookings on their own websites.
Payments Fit for the Future
Selfbook's wide-reaching payment capabilities empower hotels to keep up with modern consumer spending habits and preferences on e-commerce platforms. Targeting the fastest-growing audience of mobile-savvy customers, Selfbook supports modern digital wallets such as Google Pay and Apple Pay, which is used for two-thirds of direct bookings made on mobile.
Once a payment is made, Selfbook dynamically and securely passes the guest's payment details, regardless of their selected method, to the hotel or relevant third-party integration partner.
Shareable, Customizable Direct Links
Selfbook's industry-leading Direct Links enable hotels to build customizable, directly bookable links that can be shared across platforms. Direct Links drive traffic right to a bookable experience on the hotel's website with zero redirects, bypassing the traditional, siloed booking template page and eliminating additional steps from the reservation process.
Hotels can easily customize their own Direct Links by adding parameters such as specific dates and promo codes. When guests click on these links, the Direct Layer opens to the predetermined specifications, such as a particular holiday weekend or a family vacation promotion.
Direct Links allow hotels to tap into consumers' affinity for directly shoppable links and improve their digital reach across multiple platforms. One of the most effective ways in which hotels can boost revenue is by including Direct Links in their Instagram stories or in the link in their Instagram bio, which allows guests to book rooms immediately upon clicking the link.
These channel-agnostic Links can be shared across other social media platforms, paid ads, email campaigns, and retargeting campaigns and on metasearch sites such as Google – where links are automatically generated based on users' search specifications.
Next Steps
To get on board with Selfbook's futuristic payment capabilities, the first step is to schedule a demo with sales@selfbook.com. From there, the attentive Strategic Accounts team will take you and your hotel through the motions of integrating Selfbook software into your existing CRS. Apple Pay, customizable booking links, and all-in-one payments for higher average order values await. The future of hotel payments is here.
Want to lift revenue at your hotel?