Downtown NYC boutique hotel 11 Howard leverages Selfbook's well-positioned upsell button to drive room upgrades, increasing the average order value of those bookings by an average of 11%.
11%

increase in average order value

49%

lift in premium room bookings
11 Howard has seen a significant uptick in room upgrades since integrating with Selfbook. With Selfbook's conveniently located and instantly activated upgrade button, guests have been able to quickly opt into higher-end room options when presented with the opportunity to do so.
Upsells: A Key Incremental Revenue Driver
Upgrading to a premium room for as little as $18 more per night is a tempting reservation enhancement that effortlessly drives additional incremental revenue. In its first full month of operating with Selfbook, 11 Howard saw 9% of reservations take advantage of upsells because of the value-add they deliver to guests. In other words, 1 in 11 guests booked a higher ADR as a result of Selfbook's upsell feature.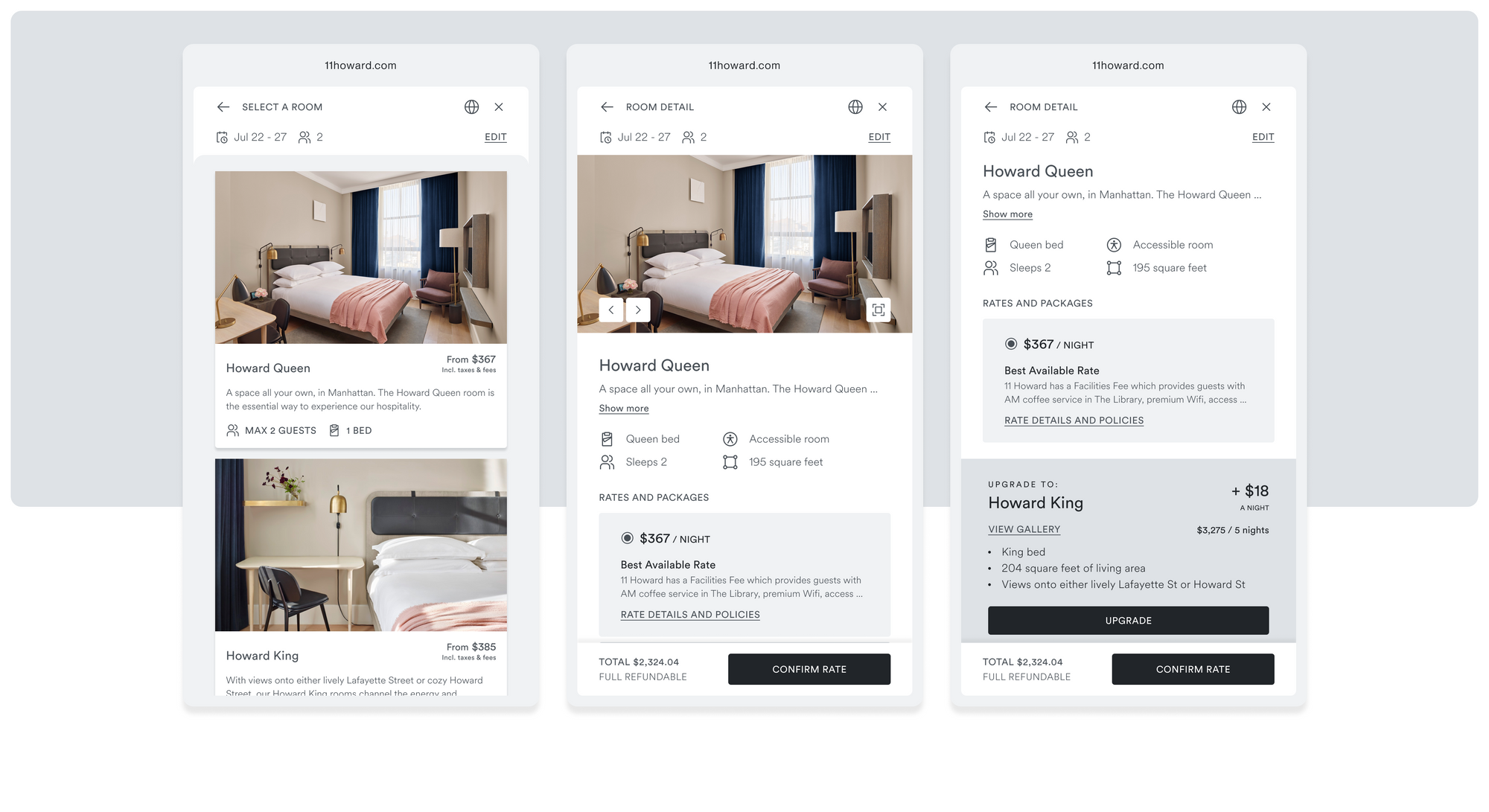 The Psychology of Upgrades
When first looking at a list of room types, most people are familiar with the initial tendency to choose the lowest-priced option. Selbook's upgrade feature, which comes later in the booking process, only displays the additional incremental cost (i.e. King Room +$18). This takes advantage of a powerful psychological effect as guests consider the difference in price separately from the cost of the room. Airlines take advantage of this same effect by initially displaying the cost of the flight and later providing the option of adding extras such as checking a bag or choosing a seat.
At 11 Howard, the King rooms, which are a direct upgrade from the Queen, experienced a 49% increase in reservations. When these differences in price are kept small, it can lead to a large volume of upgrades.
Pricing vs. Number of Orders
11 Howard's excellent upsell performance is largely driven by the small price changes between room types, particularly among entry-level rooms. Across Selfbook's portfolio, the average upsell price is $70, highlighting that a low-price and high-volume strategy can be quite effective.
The right upselling strategy for your hotel will depend on the property type and guest demographics. The chart above shows how one of Selfbook's hotels found success in selling $175+ upgrades, albeit with lower volume.
Upsells are not the only way a hotel can drive incremental revenue. For more inspiration on how to boost average order value at your hotel using attribute-based selling, read our case study about .
Want to lift revenue at your hotel?