Cart abandonment is one of e-commerce's biggest pain points, with nearly 70% of shoppers abandoning their online carts in 2021. One fifth of consumers blamed lengthy or overly complicated checkout processes as the specific reason for which they ditch potential purchases. The hospitality industry sees even less promising numbers, with 81% of people abandoning their travel reservations online.
In order to ensure better conversions and as a result, boost revenue, hotels need to streamline their booking processes to avoid some of the common reasons for which consumers drop their reservations. From fragmented booking experiences to minimal payment options and complex forms to fill out, there are several hurdles on most hotel websites that lead to guests abandoning their bookings.
Selfbook ensures hotels can keep guests on their website, maintain an on-brand booking experience, and create a checkout flow that feels as effortless as the first moments of a vacation.
Create a Frictionless Booking Flow
When producing an online booking journey, hotels encounter several potential roadblocks that could be the reason a guest abandons their reservation, not least of which are redirects off the hotel's main website and to external pages and forms. Like their online shopping counterparts, 13% of travelers cite long and complex booking flows as a main reason for stopping mid-reservation. A seamless experience, therefore, is the ultimate antidote for these consumers' cold feet when it comes to booking, and can be a hotel's highway to driving more conversions.
Selfbook's streamlined UX and mobile-friendly bookings make for hotels' ultimate companion in strengthening their bottom line. In addition, Selfbook's add-on feature makes it possible for hotels to include any number of services and amenities within the booking flow so guests can pick and choose from massages, champagne, and more to bolster their reservation, all just a simple click away. While creating an all-in-one experience for guests, this also helps hotels increase their average order value by making add-ons easy to include in any journey.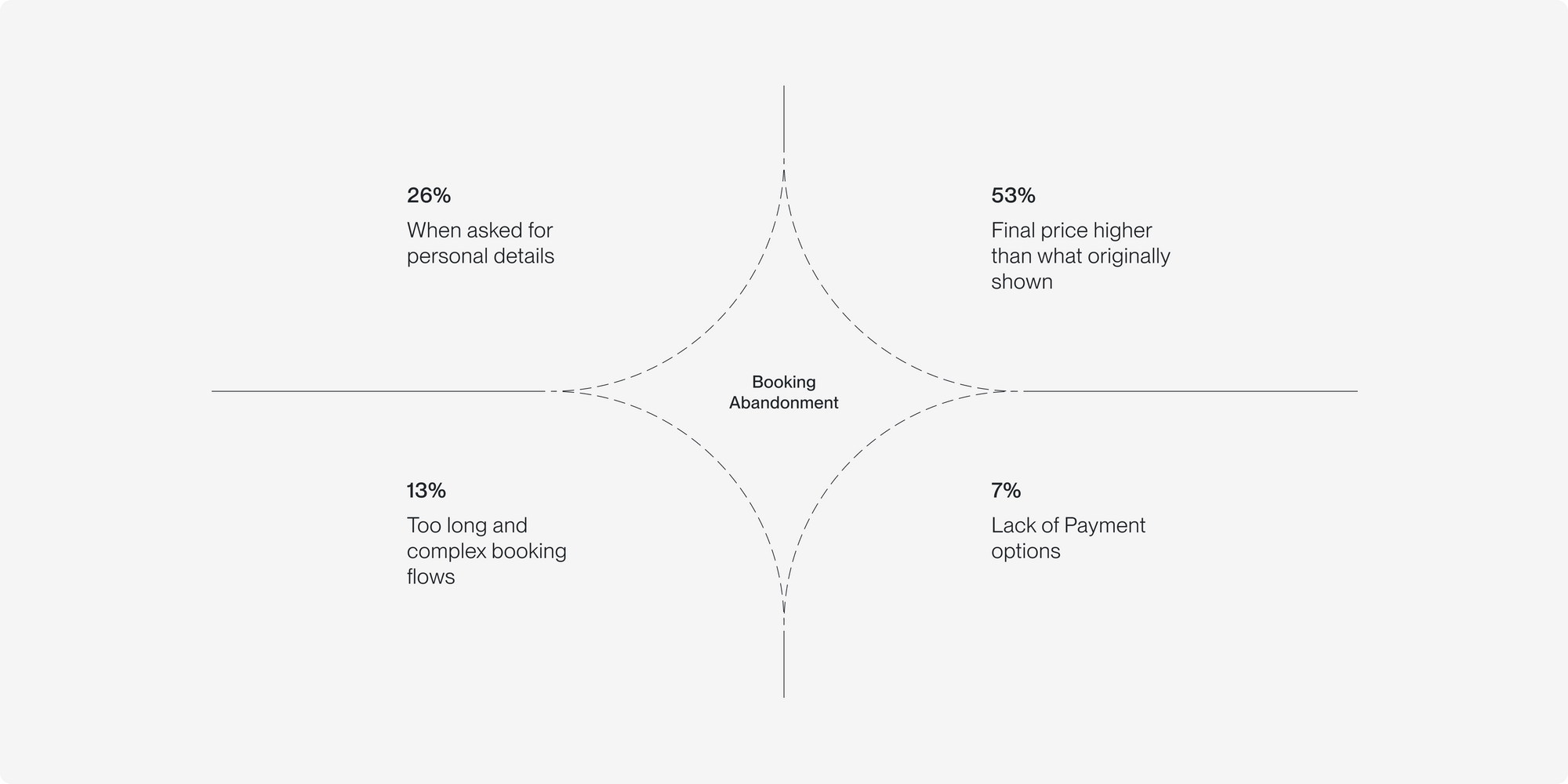 Payment Flexibility and Transparency
53% of travelers abandon bookings when they are shown the final price for a hotel room, which is often higher than what they were originally shown on most booking pages. Selfbook's upfront price transparency from the beginning of the journey helps consumers feel more comfortable booking by avoiding a price jump between the amounts they see while exploring different room options and the checkout screen.
Offering a variety of payment options is the second ingredient of the transaction equation to reduce cart abandonment. Having simple and secure options such as Apple Pay and Google Pay that cater to modern consumers' needs can help lock in bookings, especially for more reticent travelers. With nearly one tenth of guests avoiding bookings due to minimal payment options, and more than half choosing to pay using either Apple Pay or Google Pay at Selfbook-powered hotels, the weight of having mobile wallets on offer is significant.
Drive Higher Conversions with a Seamless Checkout Experience
Today's consumers have become accustomed to product payments that are as easy as tapping a credit card or entering a phone number to activate one's Shop Pay account, which contains all pre-saved payment and shipping information. The same should go for bookings - guests will often stop in their tracks if asked to fill out their personal details in lengthy forms or enter their payment information if it requires any more than using Face ID.
Rather than enter their personal details, 26% of shoppers (and 21% when asked to type in payment information), would rather attempt to make their booking on a different website than stick around. With digital wallets, one-step payments, and a Selfbook account that saves their personal and payment details, as well as their travel preferences, guests can finally book direct without encountering a lengthy transaction process that feels practically alien in 2022.
By integrating Selfbook into their reservation system, hotels can dramatically improve conversions and avoid losing bookings to OTAs. One-step checkout, a comprehensive booking flow that includes everything from room preferences to spa add-ons, and secure digital wallet payments are just some of the ways in which Selfbook transforms the hotel reservation experience and ushers the hospitality industry into the future and away from missed booking opportunities.
Want to lift revenue at your hotel?